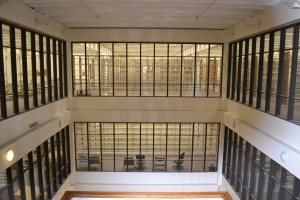 The Library has just completed the huge task of moving print books and journals to the Joint Library Facility (JLF) in College Station, Texas.
The print items are officially changed to read "JLF" in the Library's catalog, and JLF staff has placed top priority in processing our collection over other participating institutions. Processing is anticipated to be complete by Fall 2014.
In the interim, Interlibrary Loan (ILLiad) may assist you in obtaining any of our resources from another institution at standard ILL rates until the JLF completes its processing of the collection. Once the processing is complete, only journal articles will require standard ILL rates; books will be provided at no cost.