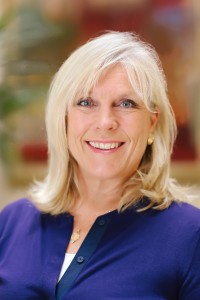 In support of Domestic Violence Awareness Month, everyone is welcome to attend a special presentation entitled Domestic Violence Awareness: A Dallas Perspective, which will be given by Paige Flink, Chief Executive Officer of The Family Place in Dallas, Texas. The program will be held on October 13, 2015 from 12 noon to 1 p.m. in McDermott Plaza Lecture Hall (Room D1.502) and is co-sponsored by the Department of Family & Community Medicine and the Health Sciences Digital Library and Learning Center. Patti Pagels, PA-C, Assistant Professor, Department of Community and Family Medicine will host the event.
A vocal advocate for ending violence against women, Paige Flink is the Chief Executive Officer of The Family Place, the Dallas area's leading organization delivering proven programs that address emotional and physical abuse and incest. When The Family Place began its work in family violence, there were no laws in Dallas protecting battered women, no policies for the arrest of batterers, and no shelters to save lives. Today, Dallas is recognized for its integrated response to domestic violence victims, and Paige has been instrumental in changing public perception and the community's response.
Through Paige's leadership, The Family Place has become a national model in the delivery of family violence services. Paige joined The Family Place in 1991 and became its Executive Director in 1997.
After becoming Executive Director, she led the agency through the planning and fundraising process of raising over $6 million in a capital campaign to build a new shelter. Opened in May 2000, The Family Place Safe Campus is a state of the art facility which has 100 emergency shelter beds, 25 transitional housing apartments and a licensed day-care facility. She also led the community through a planning process which resulted in the establishment of Faith and Liberty's Place, a supervised visitation and exchange center which serves Dallas County families.
A passionate voice for family violence victims, Paige regularly addresses the Texas Legislature and is a frequent contributor to local print, radio and television news broadcasts on family violence and victims' rights issues. She is a participant in the OpEd Project through the Texas Woman's University Public Voices Thought Leadership Institute.
Domestic Violence Awareness Month (DVAM) evolved from the "Day of Unity" held in October 1981 and conceived by the National Coalition Against Domestic Violence. The intent was to connect advocates across the nation who were working to end violence against women and their children. The Day of Unity soon became an entire week [then month] devoted to a range of activities conducted at the local, state, and national level. The activities conducted were as varied and diverse as the program sponsors but had common themes:
Mourning those who have died because of domestic violence
Celebrating those who have survived
Connecting those who work to end violence
For more information about the forum, please contact Richard Wayne by phone at 214-648-4755richard.wayne@utsouthwestern.edu.
or by email at