by Catherine Miller, CA, Digital Archivist, UT Southwestern Library
What comes to mind when you hear the word "archives"? Do you immediately picture your email "archive" or an "archive" that you see on a blog site? Or do you think, "Hmmm, archives says to me dust, old stuff, attics, or basements"? Or do you say to yourself, "I have no conception of what that means"? If any of the above is true, then this is an exciting opportunity to introduce you to what an archives is.
To understand what an archives is, it is useful to compare archives and libraries. Indeed, my favorite analogy for explaining the difference between archives and libraries is the following:
"Libraries are to restaurants – AS – Archives are to grocery stores"
When you visit a restaurant, you select a meal from the menu, and the meal is prepared for you: you receive the meal at the restaurant table as a finished product. When you visit a library, you browse the shelves and select a book to read: the book you choose is the synthesized finished product of research from various sources that have been interpreted for you and presented to you in the neatly bound book you hold in your hands. Conversely, when you go to the grocery store, you are getting the raw materials to assemble a meal yourself. For example, the ingredients for an awesome spaghetti dinner include pasta, tomatoes/tomato sauce, onion, green pepper, ground beef, etc. Just as you have to bring together the various materials to make this awesome spaghetti, archives are all about bringing together records from various creators to tell an awesome story. Working in archives, you become the aggregator of information (the cook, so to speak) who is piecing together the records of history so as to tell a story. With archives, you are the interpreter of records, unlike with reading a book, where the information presented has already been interpreted by the author.
Archives contain unique records that a researcher will not find anywhere else. This is a main distinguishing factor between the work of librarians and the work of archivists. Generally, librarians work with published, widely distributed books that you can find in any library.[1] Archivists generally work with non-published materials such as an individual's personal papers that you will only find at one institution. For example, the UT Southwestern Archives has the records of Dr. Alfred G. Gilman in our Alfred Goodman Gilman Collection. It was donated by Dr. Gilman in December 2012 and contains records which a researcher will only find by visiting the UT Southwestern Archives. The international impact of research is illustrated in one way by the following document that you will only find in the Archives here at UT Southwestern: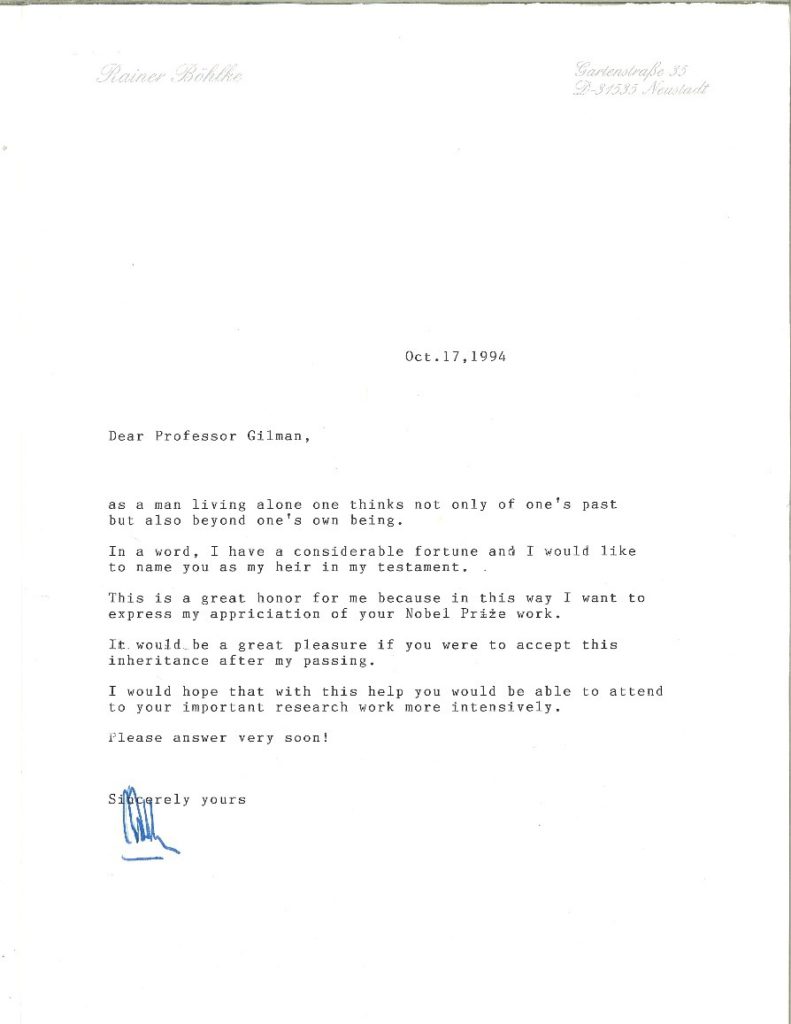 Now that you have an idea of what an archives is and how they differ from libraries, here's a brief introduction to the UT Southwestern Archives. The UT Southwestern Archives is responsible for collecting, processing, preserving, and providing access to the records essential to documenting the administrative, intellectual, and social life of UT Southwestern Medical Center. The Archives is dedicated to documenting:
The mandated functions of UT Southwestern Medical Center and our University Hospitals: education, research, and healthcare delivery
The governance and administration of UT Southwestern Medical Center
The lives of faculty, staff, students, and alumni of UT Southwestern Medical Center
Parkland Memorial Hospital, which has been UT Southwestern's long-time teaching hospital
The Archives has both institutional records and manuscript collections that contribute to telling the larger story of UT Southwestern's history. You can learn more about the Archives' holdings by visiting our webpage. The Archives holds many photographs documenting UT Southwestern's built environment, research activities, faculty, students, etc. Over 700 of these photos have been digitized and are available to view online in the UT Southwestern Image Archives.
Curious to learn more about the UT Southwestern Archives and about the work that archivists do? Send us your questions at archives@utsouthwestern.edu!
[1] There are exceptions to this rule in the library world, with rare book libraries and special collection libraries being two immediate examples.