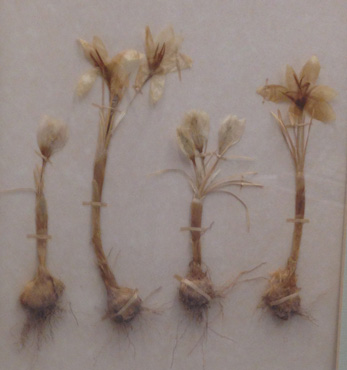 The latest South Campus Library exhibit features a rare collection of plant specimens from the Herbarium Goulandrium in Goulandris Natural History Museum, which is located in Kifissia, Greece. Founded in 1964 by Angelos and Niki Goulandris, the museum's original focus was on Greek flora. The herbarium, which currently includes the data of over 70,000 specimens, initially included the collection of Konstantinos Goulimis with 24,000 samples he donated to the museum. The museum later expanded to cover the fields of zoology, paleontology, and geology.
Some of the information that may appear in the specimen labels:
Scientific plant name
Detailed location
Habitat
Altitude
Plant habit
Plant description
Determiner of the scientific name or identification (det.)
Collector of the specimen (leg.)
Date of specimen collection
More about the Goulandris Natural History Museum is available online at http://www.gnhm.gr/en/ .